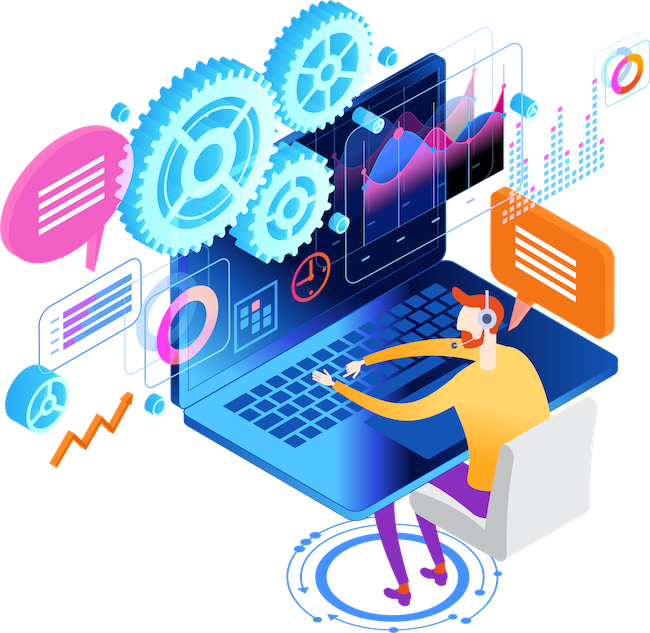 IT Outsourcing
---
We know that your busy internal IT team is often pulled in a million directions and can struggle to deal with the day-to-day IT issues that impact your business. Our IT Outsourcing team is here to help.
Even tech-savvy businesses often choose to outsource part of their IT operations. Outsourcing aspects of your IT, such as helpdesk, networking, etc., can relieve pressure and free your in-house team up to focus on strategic IT projects. Located in Houston, our IT Experts' team will help strengthen your existing IT team.
IT is complicated!
It is unrealistic to expect 1-2 people to understand everything there is to know about networking, backup and disaster recovery, compliance, cybersecurity, email monitoring, infrastructure, cloud management, and so on.
When it comes to IT, there are a lot of moving parts. And keeping everything up and running can be a full-time job in itself. That's where we come in.
As Houston's best IT outsourcing company, we take care of all your IT needs so you can focus on what you do best. From managed services and cloud solutions to cybersecurity and data recovery, we've got you covered.
We know that every business is different, which is why we offer custom solutions that are tailored to your specific needs. And because we're local, we can provide fast and friendly service that you can depend on.
So if you're looking for a trusted partner to help you with all things IT, look no further than us. Contact us today to learn more about what we can do for you.
Get instant technical support with Outsourcing
Tech-related issues can arise at the most inconvenient times. You want to reach out to your IT support team, but what if they're off to lunch or working on something else? Maybe they're out of the office for personal reasons. Why chance it? Why have someone for only 8 hours a day?
As one of Houston's best IT Outsourcing Company, we provide comprehensive IT support services to small and medium businesses in Houston, TX. We provide on-site and remote support, as well as managed IT services and consulting. Our team of certified technicians can help you with all your IT needs, from setting up new equipment to troubleshooting complex issues. We offer a wide range of IT services:
24×7 Network Monitoring
24×7 Server/Application Monitoring
24×7 UPS/Power Monitoring
24×7 Firewall Management
Email Security Gateway
Windows Patch Management
vCIO Strategic Planning
Endpoint Detection & Response
How convenient would it be to have a team of technicians' support and troubleshoot your network problems without needing to track anybody down?
Based in Houston, our IT department is on standby to tend to your every need, monitor and maintain your entire IT infrastructure, and provide you peace of mind.
Our team exists to assist your IT staff with 24×7 cloud-based monitoring & 24×7 IT support for your core IT infrastructure, and strategic planning.
Our IT Outsourcing Services will set your business up for success
If you're looking for an IT outsourcing company in Houston that will set your business up for success, look no further than us. We have a team of experienced IT professionals who can help you with all your IT needs, from setting up new systems to troubleshooting and managing existing ones.
We understand that every business is different and has different IT requirements. That's why we offer a range of services that can be customized to meet your specific needs. Whether you need help with email and data security, cloud computing, or anything else, we're here to help.
We're also committed to providing excellent customer service. We know that when your IT systems are running smoothly, it's one less thing for you to worry about. That's why we're available 24/7 to answer any questions you might have and to resolve any issues as quickly as possible.
So if you're looking for an IT outsourcing company in Houston that will set your business up for success, contact us today. We'll be happy to discuss your needs and provide a free consultation.