Network Cabling
IT Experts Company provides structured cabling, data cabling, low voltage cabling, and other network and voice cabling services.
IT Experts Company Provides the Foundation for Crystal Clear Communications, Robust Data Uploads and Downloads
Building a Solid Network and Communication Strategy Starts with a Solid Foundation of Structured Cabling
Are you suffering from dropped conference calls due to unreliable wireless networks?
Is your access to corporate network resources slow — or just doesn't work?
Do you need to expand your company's network footprint?
Well-engineered structured cabling provided by IT Experts Company is the answer to ensuring your organization's core network is built correctly and running efficiently. Whether you need to connect that new person in Accounting or expand your campus to a new building, the IT Experts Company team helps ensure you have a solid foundation on which to build your telecommunications infrastructure.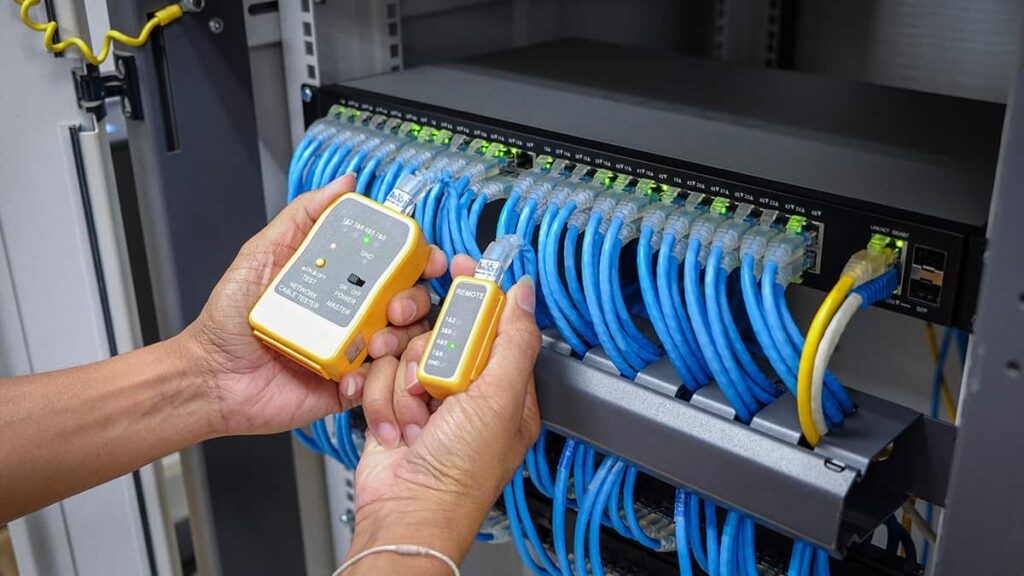 Communications Rely on Structured Network Cabling
Organizations across Texas come to IT Experts Company to solve many technology-related challenges. From computer desktops, cloud services and business telephones to payment systems . . . they all have one common denominator.
Your critical IT infrastructure must be built on a solid foundation that includes a structured cabling solution to ensure your telecommunications are operating efficiently and effectively.
Here are a few of the different types of network that may need to be considered in your network infrastructure:
Fiber Optic: Used for Network Backbones
CAT6A: Used for high demand networks
CAT6: Used for most networks up to 1GB
CAT5e: Used for older networks
Co-AX: Used for TV and various other miscellaneous applications
Speaker Cabling: Used for music speakers and paging systems.
Your network is a critical investment. The IT Experts team will ensure that your cabling is efficient to boost your network uptime and increase the quality of your communications.
Protect Critical Project Deadlines and Customer Communications
There are time-sensitive projects that require your team to have immediate access to information. When that happens, do you want to deal with "Connection to Server Lost" errors — never sure when your access will be restored?
Ensuring that your team members and customers will have fast, reliable access to critical business information can be the differentiating factor for your business. Whether you are trying to upload a spec sheet before a deadline or simply schedule a video conference with your best customer, your network plays a part.
When you are selecting a data and structuring cabling company to wire your office, connect two or more campus offices or simply reviewing your wiring for an upgrade, you need a cabling company that can do the job right the first time.
IT Experts Company Provides a 25-year Manufacturer Warranty on All Our Data, Telephone, and Network Cabling Solutions
IT Experts Company has partnered with many of the top names in the structured cabling industry to ensure your business has the fast, reliable network access that you deserve.
Whether you're moving to a new office and need an estimate for structured cabling or are simply making some upgrades, contact the team at IT Experts Company to ensure you have the right solutions in place to provide your organization with a solid foundation for future growth.
We work with organizations of all sizes throughout the Houston area to make sure you have the right cabling system to meet your objectives.